Last weekend, the sports world was in a flurry with excitement and hot takes on the #TakeAKnee movement – a response to the orange-y buffoon's ridiculous speech in Alabama, where in addition to his ignorant commentary on football in general, he called Colin Kaepernick a "son of a bitch".
Love this: @realDonaldTrump on NFL players disrespecting our flag/anthem: "get that son of a bitch off the field right now – YOU'RE FIRED!"

— Donald Trump Jr. (@DonaldJTrumpJr) September 23, 2017
There were immediate responses to Trump's comments from Roger Goddell and individual organizations. As expected, Washington's NFL team's statement was trash. They needed to change that team name eons ago. Offensive and unnecessary. As was Dan Snyder linking arms with the team and contributing to what Professor Lou Moore aptly calls whitewashing of Kap's protest.
On Sunday we also saw three NFL teams not take the field for the anthem (Titans, Steelers and the Seahawks) , nor did the the LA Sparks  for game two of the WNBA playoffs. Mad respect! Also, more players kneeled on the field. On Monday, Dallas Cowboys owner Jerry Jones linked arms and kneeled with players, BEFORE the anthem was played. Not how this works, Jerry.
Kap's protest against racial injustice and police brutality has spread like a giant wave all over America. The brilliant Lindsay Gibbs at ThinkProgress created a database to track over 200 protests. Oakland A's catcher, Bruce Maxwell, was the first MLB player to kneel during the anthem. Fans gave him a standing ovation. There will be more.
On the very same day that other brave athletes and allies were courageously standing against systems of oppression, the lily-white 2017 Stanley Cup champion, Pittsburgh Penguins, announced they were accepting an invitation to the White House. Former Penguin Georges Laraque (and one of the few Black NHLers) came out and said that the decision is 'an embarrassment'. It's really not difficult to say that a team stands against violent anti-racism, but apparently that's too hard for the Pens. Captain Sidney Crosby said that the invitation is "an honor." Trevor Daley, is a Black player on the Pens championship squad, signed a huge contract in the off season and now plays with the Detroit Red Wings. I don't blame him for bailing on a bunch of asshats.
Fortunately I did not vomit when I saw his remarks but I firmly believe that the Pens are being ignorant and reckless. Am I shocked? No. Just disappointed. Speaking of disappointed, PK Subban of the Nashville Predators declared that he would "never" kneel during the anthem. I am not sure if his answer was pushed by front office or of his own volition. There were other Black hockey players including Tampay Bay Lightening's J.T.Brown , Joel Ward of the San Jose Sharks and New York Islanders rookie Josh Ho Sang have all made public statements on how they support the protests and won't rule it out as an option. The NHLPA confirmed support of players "peaceful protests" but nothing from the NHL- yet.
In other non-shocking news, it has been a very busy time for sports reporters, many of whom are white dudes and have no idea how to report on the lived experiences of PoC or athletes in the margins. The struggle continues.
"Penguins decide to visit office of white supremacist on day NFL players kneel to raise civil rights awareness" fixed it for you https://t.co/vVzL6hIKE6

— Jashvina Shah (@icehockeystick) September 25, 2017
Meanwhile, the women's soccer world continues to be plagued with sexism and misogyny We were all thrilled during the Women's Euros held in the Netherlands this past summer.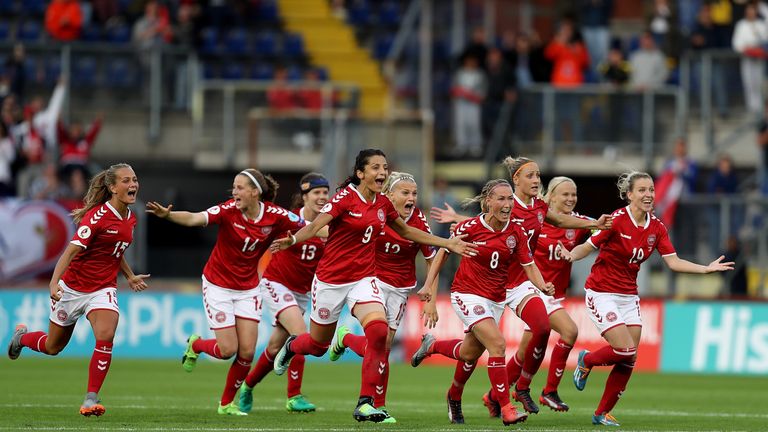 The Danes played an exciting match with my fave international Nadia Nadim (she's a Muslim footballer- yes, I am biased) being an integral part of their force. They lost to the Dutch hosts but their performance was incredible.  A mere few weeks after Denmark wowed the football world, the team was forced to cancel a sold-out match against the Netherlands. The women's team felt the contract with Danish Football Association (DBU) was not fair in terms of issues on diet, training conditions, compensation and health insurance. Just before a World-Cup qualifying match against Hungary- they came to an agreement.  
The women's team in Argentina face similar obstacles and are striking against inadequate compensation, transportation and insufficient training opportunities. Once they traveled for hours on a bus the day they were expected to play a friendly against Uruguay. They won, despite not having adequate time to rest and prepare. It comes as no surprise that most of the football federations are run by men who continue to think of the women's game as an afterthought. 
This is a translation of letter from Argentine women's fútbol team declaring a strike. They haven't been paid, they have poor facilities ETC pic.twitter.com/1kKUBXhKrn

— Brenda Elsey (@Politicultura) September 21, 2017
Hope that these women get the respect they deserve soon. No player wants to strike- they want to compete in a sport they love and are passionate about. Toxic patriarchy in sports needs to be decimated quickly.