Women's History Month is behind us and in the inaugural Moving the Chains column where we cover politics and activism in the sports world, it is fitting that the stories featured are mostly of women's hustle and accomplishments. Just before the month dedicated to sharing the struggles and brilliant victories came to a close, the US Women's National Hockey Team reached an agreement with USA Hockey. The women had been striking due to unfair wages and demanded to be paid equitably. Fortunately, they were not forced to sit out of the year's most important tournament: the IIHF World Championships. The defending world champions beat Team Canada in the finals on Friday night and clinched another title.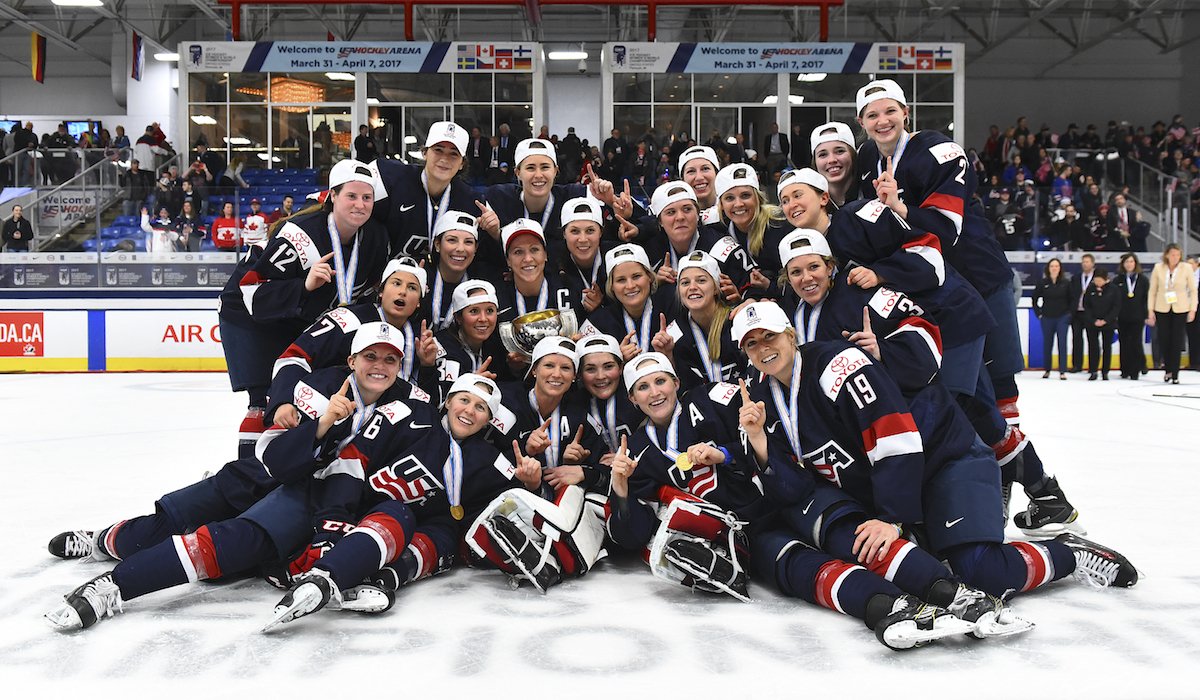 In other superb news, the reigning champions of women's soccer and pioneers in teams fighting for women's pay equity in sport: the USWNT cemented a five-year labor deal with
USA Soccer. The deal was negotiated by the Women's National Team PLayers Association and brings hope that women and girls can focus their sight on fighting for the ball on the pitch- and not to have to sue, strike and insist on fair and living wages. The Republic of Ireland Women's National Football Team also just reached a deal with the Football Association of Ireland due to lack of proper funding, unfair wages- and even clothing. The team were not given proper or matching team tracksuits. One player has said that they were treated like "dirt on a shoe". The Irish players struggled with lack of financial support and often took up personal leave from their full-time jobs in order to attend training camps ahead of international matches.
Sadly, it would seem as if unequal funding from national federations is common in women's soccer. A win for the women is not only on the pitch, but securing proper pay.
One week later, we are still feeling the reverberations of a historic final when the South Carolina Gamecocks beat Mississippi State to win the NCAA women's playoffs. Most notably, Dawn Staley is only the second African-American woman (Carolyn Peck was the first in 1999) to lead her team to a national championship. The story of how Peck gifted Staley a piece of the net from the night Peck's Purdue team won, is now legendary. She asked her to pass it on to inspire and propel the success of African-American women in top coaching roles.
Staley's win comes at a time when the numbers around minority groups in NCAA sports are alarming. The Institute for Diversity and Ethics in Sport (TIDES) has recently published the 2016 Racial and Gender Report Card. Some of the salient point are that less than 40% of women's Division I coaches are women; a ridiculously low 6.5% of baseball coaches are People of Color; there were only 10 women and two people of color as conference commissioners among the 30 conferences in Division I. The statistics for Women of Color in these categories are even lower or non-existent.
On our way to Atlanta pic.twitter.com/0wRCDaP0WL

— Thabo Sefolosha (@ThaboSefolosha) September 27, 2014
Thabo Safolosha will be awarded $4 million dollars after settling a case against New York City, in which the Atlanta Hawks player says he was violently arrested by NYPD officers. The incident occurred outside a nightclub where another player, Chris Copeland, had been stabbed earlier in the evening.  
Sefolosha claims he was "attacked" as he tried to give a $20 bill to a homeless man. Sefolosha's leg was broken by police during the scuffle and as a result of his injuries, he missed the NBA playoffs. Later, he was acquitted of all charges laid against him.