Numerous allegations of rape and sexual assault have been mounting against powerful men in Hollywood, politics and beyond, stemming from the #MeToo movement. In the last few weeks, incredibly brave female athletes- including Layshia Clarendon, Abby Wambach and Hope Solo- all have disclosed that they are survivors.
Gold medallist McKayla Maroney posted on social media (her Twitter account has since been deleted) that she was sexually abused by former USA Gymnastics physician Dr. Larry Nasser. Nasser is currently in jail facing more than 30 counts of first degree criminal sexual conduct. Maroney, 21,  said the abuse started when she was 15 and even went on during the 2012 London Olympics.
Her public post set off a chain of events including the publication of a harrowing essay written by WNBA superstar and UConn Huskies legend Breanna Stewart for The Players Tribune.  Stewart wrote about how she was molested starting at the age of nine by a trusted family friend. The abuse continued for two years. She is among many women who have been coming forward with their experiences. Stewart mentions that reading Maroney's piece made her feel "…less alone".
#MeToo has created spaces where women feel they can come forward and share traumas but not be ashamed.
"This is one of the most difficult things I've ever done and will ever do."

Breanna Stewart in her own words. https://t.co/KZpE4pSXsj

— The Players' Tribune (@PlayersTribune) October 30, 2017
Last week, Maroney's former teammate Aly Raisman also came forward to add that, she too, had been sexually abused by Nasser. She has been vocal in questioning USA Gymnastics and other power people about how and why these horrors were allowed to continue for so long. Raisman spoke to 60 Minutes about her story and said the following: "Why are we looking at why didn't the girls speak up? Why not look at what about the culture? What did USA Gymnastics do, and Larry Nassar do, to manipulate these girls so much that they are so afraid to speak up?"
Amongst numerous prominent women, gymnast @Aly_Raisman spoke out against sexual assault during @glamourmag's Women of the Year awards.

"Most people know me as a gymnast, but I am also a survivor," Raisman said during her speech empowering women. https://t.co/GHsHBROIUe pic.twitter.com/ABNcpJen3x

— Proday Media (@prodayco) November 16, 2017
In a bizarre response to Raisman, her former teammate Gabby Douglas chimed in with an incredibly misguided and horrible comment. She quoted tweeted Raisman (now deleted) and stated "it is our responsibility to dress modestly and be classy." Thankfully Simone Biles was there to check Douglas, but he damage was done. I hope Douglas learns and understands that what a woman wears has nothing do to with how and why they are victims of sexualized violence.
shocks me that I'm seeing this but it doesn't surprise me… honestly seeing this brings me to tears bc as your teammate I expected more from you & to support her. I support you Aly 💕 & all the other women out there!
STAY STRONG pic.twitter.com/CccTzhyPcb

— Simone Biles (@Simone_Biles) November 17, 2017
Former USWNT goal keeper Hope Solo also posted that she was assaulted by disgraced FIFA ex-President Sepp Blatter at a FIFA awards ceremony in 2013. Blatter, a known liar and scoundrel, denies what Solo describes as "ass-grabbing".
The voices of women in sports are blasting out to remind us, while we revere men in sports so much, the systems of violent misogyny lingers and needs to be destroyed. It is important to remember that these women chose to disclose but there are probably many out there who have not. Solidarity and support with them, too.
(*Update: Since the publication of this column yesterday, Gabby Douglas has come forward explaining that she, too, was abused by Dr. Larry Nasser. This makes her the third gymnast from "The Fierce Five" who has disclosed abuse by Nasser. -SA)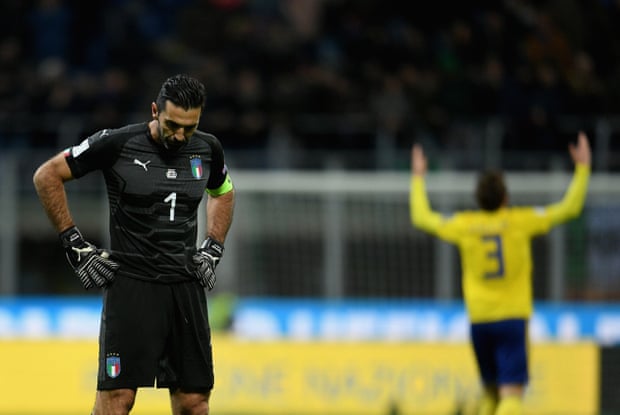 The world of international football (soccer) has been buzzing with excitement … and with crushing heartbreak. A few of the World Cup regulars – including Italy, the Netherlands and Chile will not be attending FIFA's largest tournament to be held this summer in Russia. The devastation was palpable for Italian supporters who not only watched one of the world's most cherished teams fall to the Swedes (yes, the four-time world champions lost to Sweden) in a qualifying match, but their beloved Captain and goal keeper Gianluigi Buffon retired immediately after the match in a tearful interview. Admittedly, I don't always cheer for Azzurri but I consider Buffon to be an excellent keeper, a class act, and an excellent human. It was not widely reported but Buffon was one of the first (and very few) famous players to support welcoming refugees from global conflicts seeking safety and asylum in Europe. I cried along with him on that fateful day.
Gigi #Buffon crying on Rai TV after the match. Terrible.

LEGEND. 🇮🇹💔 pic.twitter.com/LoDmKbvSZz

— Fabrizio Romano (@FabrizioRomano) November 13, 2017
Italy (also known as Azzurri) are missing the World Cup for the first time since 1958. Words used by Italian media to describe this footy devastation include: "The Apocalypse" and "darkest pages of our sporting history". Some notables not attending the FIFA fiesta are Algeria, Greece, Honduras, Canada (not really a surprise because the men's side has only played in the World Cup once in 1986), Northern Ireland, Republic, Turkey and the USA. But dry your tears, dear Americans soccer lovers! You can be happy knowing that your women's team is kick ass and the reigning WC champions.
There was of course happy news with elated fans from Egypt celebrating their country's berth in formidable style after Mohamed Salah scored a penalty kick in the 95th minute- yes, extra time.
Peru's President congratulated the squad and declared a national holiday after they beat New Zealand to qualify- first time in 36 years.
Esperamos más de 35 años para estar nuevamente en un mundial. Gracias guerreros por darnos esta alegría! Celebremos todos con responsabilidad. Arriba Perú! #EstamosDeVuelta

— PedroPablo Kuczynski (@ppkamigo) November 16, 2017
Best of luck to all the underdogs!
After a week of dumpster fires in the sports world, we can look to Black women for joy and integrity. Coach Dawn Staley of the reigning NCAA Div I women's hoops, the South Carolina Gamecocks, turned down an invitation to the White House. Not only are they champion ballers, they know that visiting 45 is a waste of perfect practice time. Which is exactly what they did instead of be in the company of the wretched orange gremlin and his despicable crew.
JUST IN@dawnstaley and the #Gamecocks have received an invite from the White House for winning last year's national title. USC is declining the invitation. Here's Staley's full statement. @abc_columbia pic.twitter.com/M5gVQ6CQMP

— Mike Gillespie (@MikeABCColumbia) November 17, 2017
Now let's talk about some snow queens. As we gear up for the Winter Olympics in Pyeongchang, I want to draw attention to the badassery that is the Nigerian Women's Bobsled team. They have qualified for the Olympics.
"This is a huge milestone for sports in Nigeria" https://t.co/eYoMV44TmH via @LadiesMarch

— Shireen Footybedsheets Ahmed (@_shireenahmed_) November 16, 2017
The team that initially relied on crowdfunding efforts to train and are now backed by VISA. I hope they are well compensated and supported for their incredible efforts and athleticism. (*Shireen hollers: "GET. THAT. CASHMONEY.") The combined slay of teammates Seun Adigun, Ngozi Onwumere and Akuoma Omeoga are the first African team – men or women– to qualify in Bobsled. Black excellence herstory. Get out your Nigerian flags this winter and bow down, people. Bow down.