In some exciting news for women's coaches in professional leagues, the New York Jets have hired Collette Smith to be the first woman to coach within the organization. Smith, a 44 year-old coach and marketing executive with the New York Sharks (part of the Independent Women's Football League) has an expertise in not only managing but in defensive coaching and playing. This is great news for the organization, the sport and for thousands of girls who will see a formidable  woman doing amazing things- in a space dominated by men. Representation matters and particularly in coaching where we know the numbers are generally dismal. "I'm over the top. I'm humbled and I'm proud. This could have happened with any NFL team. But it just so happened that it was with my beloved New York Jets. This is bigger because of that. God forbid it would have been with the Patriots. But I still would have done it." Smith's words are genuine and what's more fun is that she is a lifelong Jets fans who throws shade at the New England Patriots.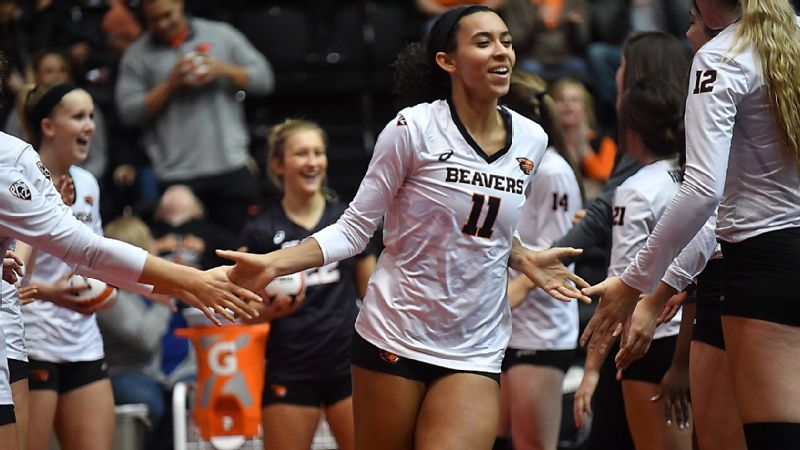 Oregon State player Lenesha Reagan is the volleyball team's starting outside hitter. She is also an incredible advocate of athletes with mental illness. Reagan bravely penned a personal reflection on her own struggles with depression, self-harm and an eating disorder. Her words and her poise were featured in a moving piece by espnW. Her words were powerful and can potentially save lives. "I am so sick of feeling alone and helpless," she wrote. "Mental illness is not something you should be ashamed of but breaking down that stigma starts with us, the student-athletes. We can change the culture and make it easier for our friends and teammates to get the help that they need."
Kevin Pillar of the Toronto Blue Jays used a homophobic slur at a game against the Atlanta Braves and was suspended two games. Toronto is a city with a tremendous LGBTIQ history and although he offered a "lackluster" apology, there needs to be much more work done on this issue. Homophobia still plagues sport and there should be no tolerance- from clubs and sports federations- for this bigotry. In similarly horrible case, Anaheim Ducks player, Ryan Getzlaf, was not suspended any amount of time for his use of homophobic slurs but was fined. The NHL should have imposed clear accountability for his unacceptable behavior. To make matters worse, he issued what Outsports has called "the worst non-apology for a slur in the history of sports".
And because this is not offensive enough,  a group of Ducks fans decided to start a crowdfunding campaign to help him out with his $10, 000 fine. Luckily, the hockey gods must have been equally incensed because Getzlaf and his team were ousted from the playoffs by the spectacular Nashville Predators- lead by our favorite P.K. Subban.
Beth Mowins will be the first woman to call an NFL game on national television during the opening weekend of the 2017 season. Before Mowins, the only other woman to have this honor  was Gayle Sierens in a regionally televised game between the Seattle Seahawks and the Kansas City Chiefs in 1987. This September, Mowins will call the play-by-play for  Monday night ESPN double-header for. Notable media personality Richard Deitsch has commented that ESPN is the only major network to hire women in the booth in prominent positions calling men's sports. There definitely must be more.
Lastly, in a continuing story of resilience, two-time Wimbledon Champion Petra Kvitova won her first singles' match after returning from injury. Last December Kvitova was viciously attacked by a burglar in her home in the Czech Republic. In an attempt to fight off the intruder, she suffered very deep cuts of her fingers. The wounds to her left hand required hours of extensive surgery- she is a left-handed player. This past weekend Kvitova, number 15 player, beat an opponent but gracefully declared that even entering the French Open was a triumph.